Who's Online
Right now there are 158 collectors viewing our minis.
Dollhouse Gallery
We're now accepting pictures of your roombox, dollhouse, miniature scene, shadowbox, or other mini. We also run across a lot of people who use minis to create other products, and we'd like to highight those efforts here too!
Just send your pic to us HERE. If you want to send a photograph, mail it to:
Mainly Mini's
129 Main St
Tupper Lake NY 12986
and we'll scan it for you!
Don't forget to check out our ongoing Annabelle project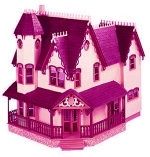 Click Here for the Annabelle project

OR

Click Here for our Customer Picture Gallery
Artists
We Accept