Mainly Minis Dollhouse Miniatures


Well, since you're here, you must be a doll house miniature lover just like I am! I think you'll find it very different from most mini stores both online and off.

At Mainly Minis you'll get old fashioned personal attention along with a huge selection of the best dollhouse miniatures at the best prices with fast, professional service. All of the doll house minis are hand picked by me personally. I look for the unusual and fun miniatures because that's what makes the dollhouse look real and lived in. Don't you agree?

You'll find just about every kind of mini here from minis for a beginner's first dollhouse to the one-of-a-kind artist miniatures for the serious collector of artisan dollhouse miniatures.

We carry lots of dollhouse lighting, both battery operated and 12 volt. And, of course, we also carry lighting kits to wire your doll house. Or, if your dollhouse is not wired, you can buy non-working lights.

For your holiday dollhouse we have hundreds and hundreds of miniatures for Halloween, Christmas, Easter and every holiday you can think of.

Don't forget that we're in the US and offer free shipping on your doll house miniatures within the United States.

I hope you have as much fun shopping for your dollhouse minis here as I've had finding them just for you!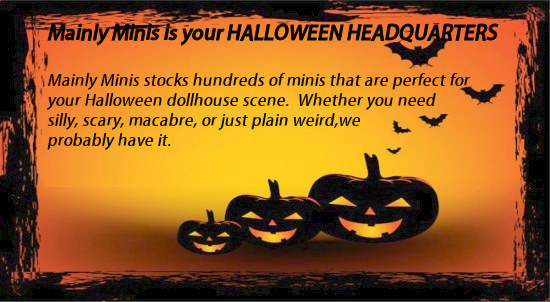 Wow!
Don't forget to check out the Latest Arrivals section, there are a lot of new items.
FREE SHIPPING

Mainly Minis offers free standard shipping to US addresses for all items in our catalog.

There are no hidden charges, and everything in our catalog is in stock and available for immediate delivery.

We offer SAME DAY ORDER PROCESSING on most items, check out our Shipping section for details.
Mainly Minis Dollhouse Project

Chapter 11 is now online!!
Check out our ongoing custom dollhouse project in the Gallery.
More details HERE